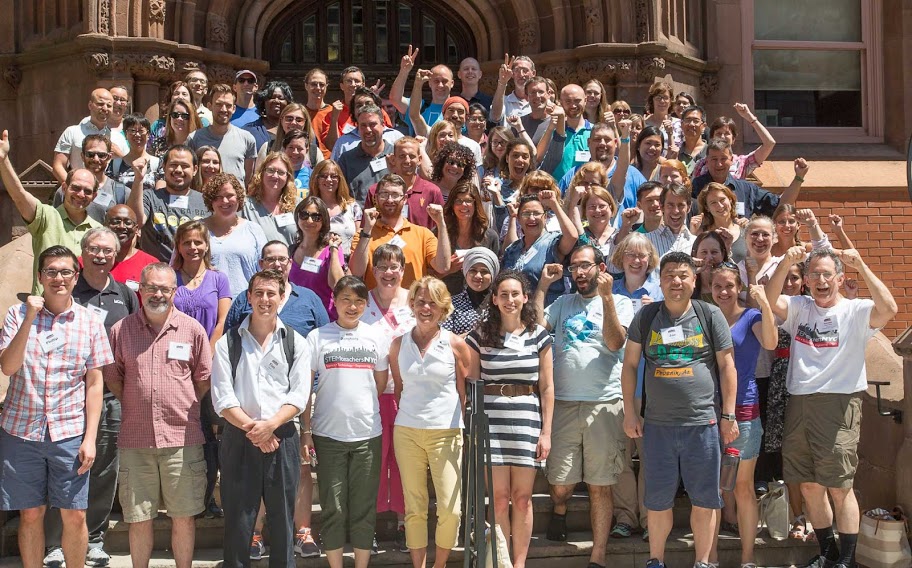 STEMteachersNYC cultivates excellence in STEM teaching and promotes deep understanding and success for students through innovative, teacher-led professional development. Our weekend workshops are offered during the school year and multi-week workshop intensives occur in the summer, led by master teachers. We welcome and encourage teachers from across the globe, the US, and the local New York City area!
By teachers, for teachers, about teaching.
STEMteachersNYC is a 501(c)3 non-profit, and Continuing Teacher and Leader Education (CTLE) vendor for the New York City Department of Education (#23385). We are affiliated with the American Modeling Teachers Association.
Experimentation
Collaboration among active practitioners
Free exchange of ideas
Supportive, diverse community
Integration of robust content and pedagogy
Practical and classroom-ready workshops
Teachers as active learners
Attentiveness to student learning experience
Responsiveness to local teacher interests
Best practices based on research and classroom experience
Welcoming to new teachers
Our Approach
STEMteachersNYC programs draw from a teaching methodology known as modeling, which is closely related to Next Generation Science Standards. Modeling is a student-centered approach to teaching that emphasizes the use of scientific models in an interactive learning community. Students are engaged with simple scenarios and learn to model the physical world. The approach engages students in experimentation, data collection and analysis through a set of structured "paradigm" experiments, asks them to represent their understanding using whiteboards, and then deploys the resulting model in analyzing related phenomena. When the models fail to explain what students are seeing, the cycle of experimentation, data collection, and model-making begins again.
Check out this video to learn more about STEMteachersNYC's approach to professional development through modeling science and active learning
Looking to get a better understanding of what STEMteachersNYC workshops are like and how they can impact you and your teaching practices? Check out this 8 min video highlighting how the core idea behind forces and motion (pushing and pulling) is demonstrated to teachers in one of STEMteachersNYC's workshops.
Finance Committee
Marketing & Development Committee
Staff
Communications, Networking, and Recruitment- Partners