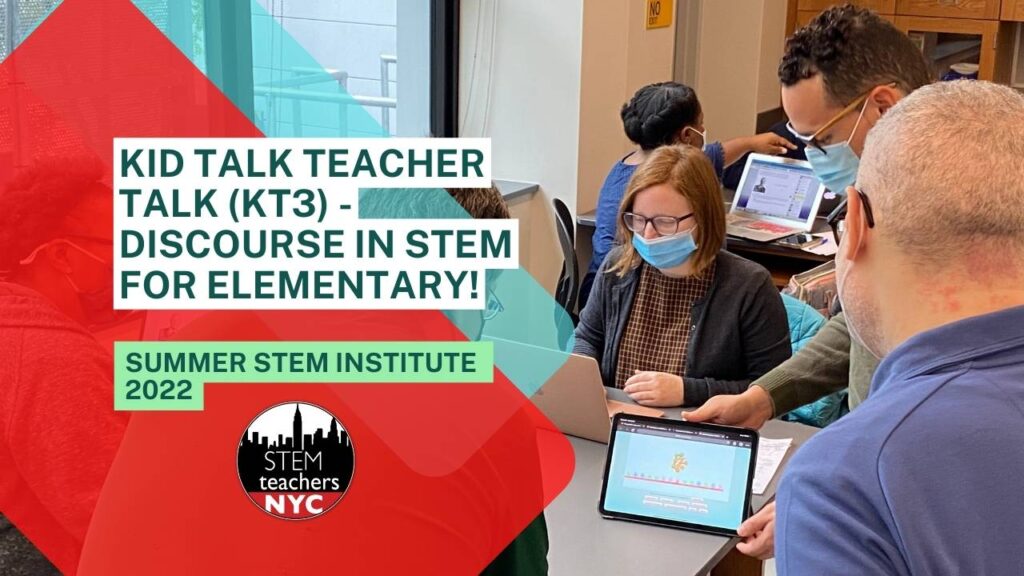 Leaders: Jason Sullivan
Dates: Aug 8-12, 2022 (9:00-3:00pm EDT, via Zoom)
About the Workshop
The STEMlab Kid Talk,Teacher Talk (KT3) is a professional development program developed with funding from 100Kin10. During the KT3 Workshop and meetings time is devoted to designing and implementing lessons that engage and motivate students to explain natural phenomena and to solve engineering problems. Teachers practice specific facilitation strategies that improve a student's ability to communicate their thinking, cite evidence, and build ideas through discussions. The goal is to support and empower educators to facilitate students' sense-making and their ability to use the science and engineering practices.
The learning objectives of the Elementary STEMLab program support quality implementation of the NGSS/NYSSLS and programs like Amplify in the following ways:
Assist teachers in identifying how discussion before, during and after a phenomena-based experience benefits elementary students' development of science concepts and skills.
Learn strategies to facilitate the shared development of ideas and explanations, both developmentally important scaffolds. Additionally, participants will use past classroom videos and the NYSSLS/NGSS documents to define age-appropriate expectations for the science and engineering practices in the youngest grades.
Cultivation of norms and routines that promote the learning environment students need in order to succeed with challenging academics. In the 2nd week of the program, teachers have the opportunity to practice setting norms, reinforcing routines, and shaping behaviors that promote sustained conversations and investigations where students can grow ideas.
Fostering understanding of activities that explore claims, evidence, and reasoning through teacher modeling, sorting activities, or writing. Discussions provide the age appropriate vehicle for this teaching modeling and student practice.
Guidance through the process of interpreting the NYSSLS performance expectations. This ensures all 3 dimensions of NGSS are developed and practiced by students, not just modeled or referenced by teachers.
Help teachers to develop assessment strategies that connect how students are linking evidence to claims through discussion and the final explanations.
The program provides mentoring and support from a network of teachers to help sustain and apply the work started in the summer.
---
Register Today
---
STEMteachersNYC delivers professional development workshops for teachers, by teachers, about teaching, since 2011. All workshops over 2hrs offer CTLE. CUNY Pre-service teachers may attend for free; Brooklyn College Pre-service teachers receive Field Site hours. Please reach out if your school requires an invoice. We are an NYCDOE MTAC Vendor.