Introduction to Teaching Systems & Resilience Thinking (Runs 1 Full Day)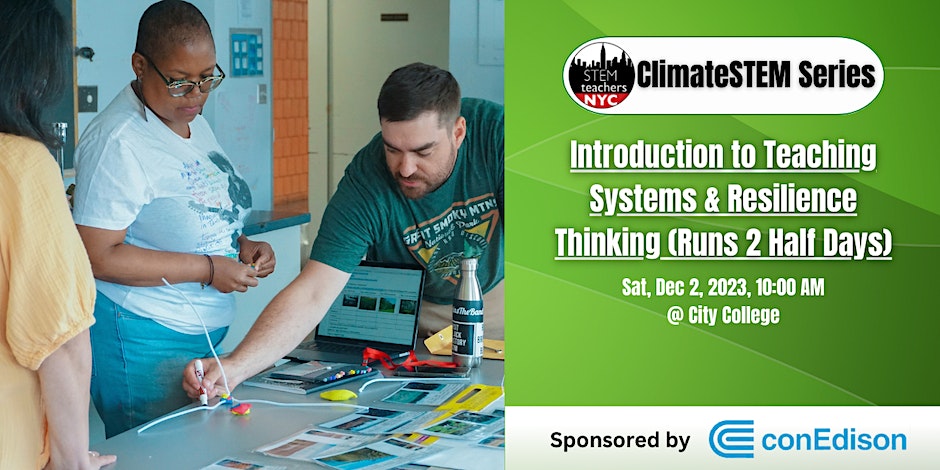 December 2
@
9:00 am
–
3:00 pm
Introduction to Teaching Systems & Resilience Thinking
Dec 2, 9:00am-3:00pm (1 full day, 6 CTLE); In-person at Trinity School
Led by Don Hass (Paleontological Research Inst., NY) and Glen Stuart (STEMteachersNYC, Montgomery HS).
Description: Amplify your teaching prowess and deepen your grasp of climate change, scale, and feedback loops with an immersive dive into the intricacies of this vital subject!
On Day 1, explore climate change chemistry through interactive demonstrations and a thorough exploration of the Seuss effect. The key phenomenon we'll explore is the story of a gallon of gasoline. When explored in just a little depth, and at the scale of US consumption, participants will be shocked – and be able to take the lesson directly to their classrooms. It will motivate you and your students to take action on climate.
After our launch with a demonstration of ice melting in salt vs freshwater, Day 2 will ask, "How does one study a complex system consisting of multiple negative feedback loops of varying strengths, and scales interconnected with multiple positive feedback loops of varying strengths, scales, and directions?" Computer simulations and conflicting contentions will spotlight feedback loops that shape our climate, specifically albedo and convection as well as common misconceptions.
Both sessions will share extensive classroom resources.
Cost: (Limited # of tickets!) $45 per person to reserve your spot. The first ten attendees who complete both half days will receive a stipend of $100. This workshop is offered under our ClimateSTEM Series and is sponsored by ConEd.
STEMteachersNYC delivers professional development workshops for teachers, by teachers, about teaching, since 2011. All workshops over 2hrs offer CTLE. CUNY Pre-service teachers may attend for free; Brooklyn College Pre-service teachers receive Field Site hours. Please reach out if your school requires an invoice. We are an NYCDOE MTAC Vendor.
Related Events