Kid Talk Teacher Talk – Become a Summer 2023 STEMLab School! INFO SESSION
April 3
@
3:30 pm
–
4:15 pm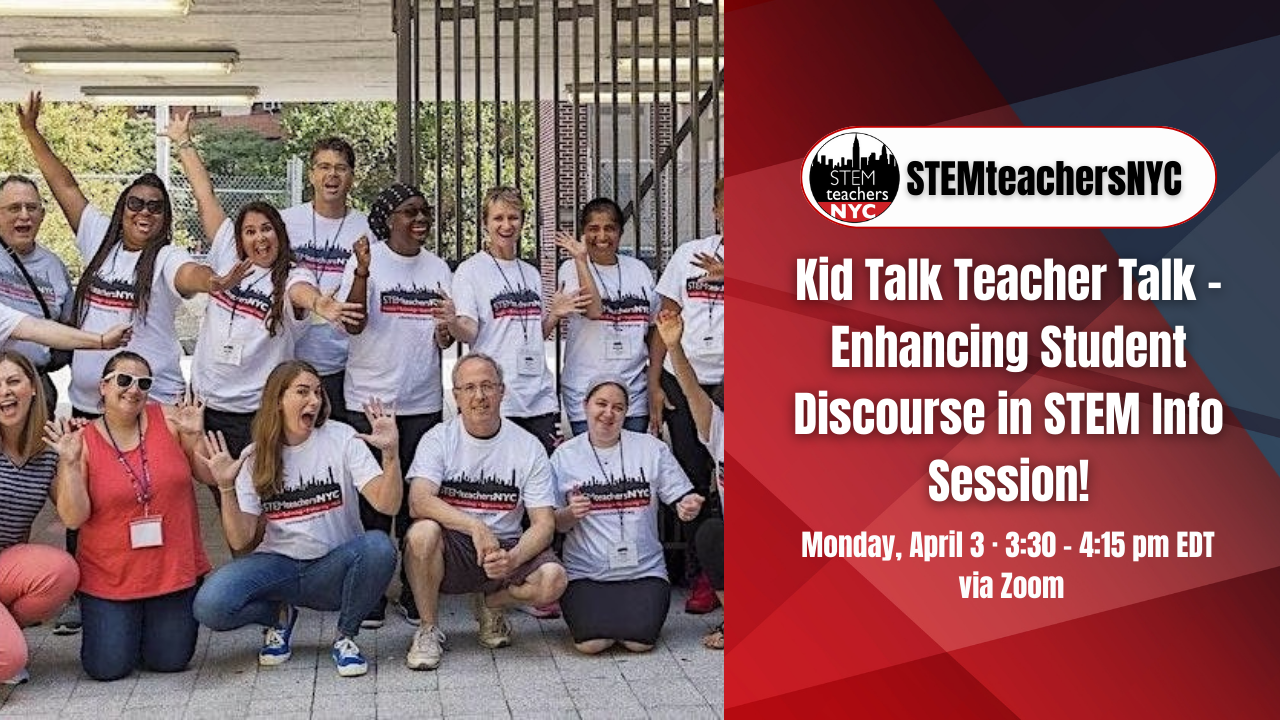 Leaders: Jason Sullivan, Michelle Velho, Kasie Stark, and Leton Hall
Dates: April 3, 2023 (3:30-4:15pm EDT, via Zoom)
About
Learn about Kid Talk Teacher Talk & How to Become a Summer 2023 KT3 Network Hub School for your community!
Kid Talk Teacher Talk (KT3) has been a staple STEMteachersNYC professional learning workshop for elementary teachers since 2015. Led by seasoned teachers and department heads, this workshop incorporates pedagogical and assessment strategies that allow teachers to transform basic hands-on lessons, into highly interactive, discourse and inquiry based learning experiences driven by student interest and agency. Participants learn techniques that support teacher capacity to tap into and leverage learning progressions, and student capacity and skill in questioning and Socratically building on peer ideas – essential to creating the foundation of 'learning in community' that science and STEM research communities.
Read our full KT3 information sheet here!
Summer KT3 Workshop Event Listing (July 31-Aug11 at City College).
Join us April 3 for an information session on the scope of the workshop, as well as the benefits of becoming a KT3 Summer 2023 STEMLab School. The option of hosting a two-week KT3 workshop comes with:
5 free seats for your teachers.
One week of instruction for summer camp students.
Optional STEM coaching for the subsequent school year.
We truly look forward to meeting you and learning about your vision for STEM at your school.
This information session will give you an overview of the program and benefits, and offer time for QA with the developers, facilitators, and some of our alumni! See how Kid Talk Teacher Talk can bring your STEM curriculum to the next level!
Cost of info session: FREE!
STEMteachersNYC delivers professional development workshops for teachers, by teachers, about teaching, since 2011. All workshops over 2hrs offer CTLE. CUNY Pre-service teachers may attend for free; Brooklyn College Pre-service teachers receive Field Site hours. Please reach out if your school requires an invoice. We are an NYCDOE MTAC Vendor.
Related Events