Kid Talk Teacher Talk – Elevating Discourse in Elementary STEM (ES)
July 31
@
9:00 am
–
August 11
@
3:00 pm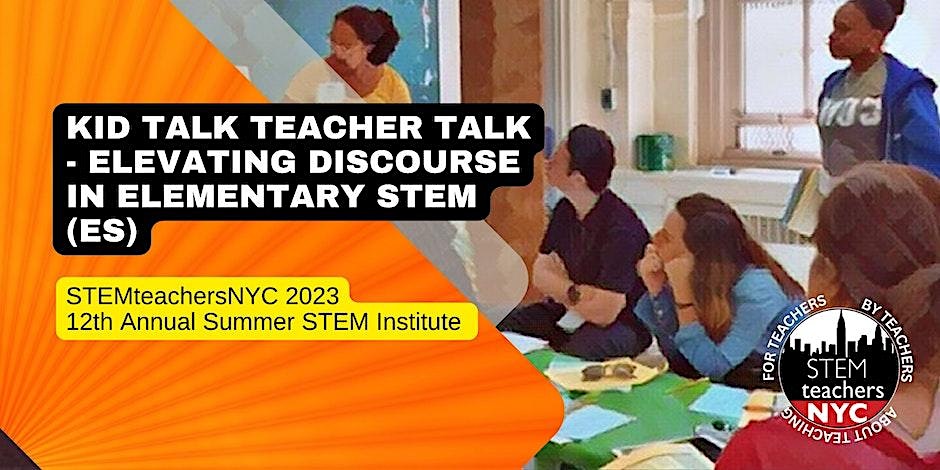 For a limited time only, we're offering a 25% discount on our summer workshops. Use code SummerSTEMFLASH25 at checkout and let the STEM adventure begin!
This workshop is aimed to provide you with new questioning strategies and tools for how to raise the level of student-to-student discourse.
Kid Talk Teacher Talk – Elevating Discourse in Elementary STEM
July 31 – August 11, 2023
Leaders: Jason Sullivan, Michelle Velho, Kasie Stark, and Leton Hall.
This workshop takes place in-person at City College, NYC.
Kid Talk teacher Talk (KT3) assists elementary teachers in asking effective launch questions for hands-on STEM investigations. As teachers experience ways to engage students in talking about scientific phenomena in a summer lab-school setting, they gain confidence and expertise to bring new strategies into their regular classroom setting. The powerful opportunity to listen closely to student conversations around science during a 2-week summer experience, coupled with support from teacher mentors, and program leaders has not only demonstrated changes and growth in student classroom discourse, but created an active, growing professional network and expanded STEMteachersNYC's outreach to primary-grades.
Key components of the KT3 approach, which continues to be offered as part of the annual STEMteachersNYC Summer STEM Institute:
Alignment with individual participants' existing approaches and curriculum.
A focus on facilitating the use of existing pedagogical expertise to transfer instructional strategies used to teach reading and writing to grade-appropriate science discussions.
Strategies for teaching teachers to build increasingly student-led discourse.
Two-week summer Lab School Model + coaching and school year reunions.
The KT3 project also aims to extend discussion practices from YOUR high confidence subjects into all classroom subjects discussed & leveraging it as common thread/cross curricular glue in ELA & NGSS classrooms.
REACH OUT FOR INFORMATION ON BECOMING A SUMMER HOST SCHOOL! UP TO 5 HOST SCHOOL TEACHERS ATTEND FREE!
Cost: (Limited # of tickets!)
Early Bird $550
Regular Teacher Price $700
School Price $1000
STEMteachersNYC delivers professional development workshops for teachers, by teachers, about teaching, since 2011. All workshops over 2hrs offer CTLE. CUNY Pre-service teachers may attend for free; Brooklyn College Pre-service teachers receive Field Site hours. Please reach out if your school requires an invoice. We are an NYCDOE MTAC Vendor.
Current CUNY students with valid ID may attend summer workshops at a discount or for FREE! Please email [email protected] for details.
Email general questions to [email protected]. Note this workshop requires a minimum number of participants. In the event there are not enough participants, the workshop will be cancelled, and a refund will be issued.
Interested in an Invoice/Purchase Order Request?
Teachers! Ask your school to pay for your ticket! All the school needs to do is send us a Purchase Order (PO). Fill out our PO/Invoice survey and we will prepare you an invoice for you to submit to your school/district. Or just copy and paste the information above and let them know the workshop you want to attend. Don't be afraid to ask. There's always a chance the money will be available and they'll say yes, but if you don't ask, there's no chance at all.
Districts/Schools, to request an invoice for a STEMteachersNYC Workshop, please fill out a quick invoice survey. This is a required step in order to process your request. Any questions regarding the PO process please contact [email protected]
Please send Purchase Orders (POs) to our Billing Office
Via Email: [email protected]
OR Via US Mail: STEMteachersNYC – Billing Office 245 West 107th Street, Suite 10B New York, NY 10025.
Please read the FAQs section below carefully before registering.
Please note: We take screenshots, photographs and record video of our workshops in order to publicize a positive image of science teaching, and of STEMteachersNYC – a recognized 501(c)(3) non-profit organization – and to support future teacher leaders. If you register, you are agreeing to be photographed and to have your voice and image video-recorded. You are also agreeing to relinquish all your rights to the photographs and video recordings.
If you do not wish to be photographed or video-recorded – you must inform us before the workshop starts. For in-person workshops, we will take one photograph of your face so that we can erase your image if we happen to catch it by chance during the workshop, and we will do our best to avoid you. We would also appreciate your cooperation in positioning yourself at the edge of the group so as to help us avoid you.
Related Events