Dynamic Unit Planning & Curriculum Design for Chemistry & Physics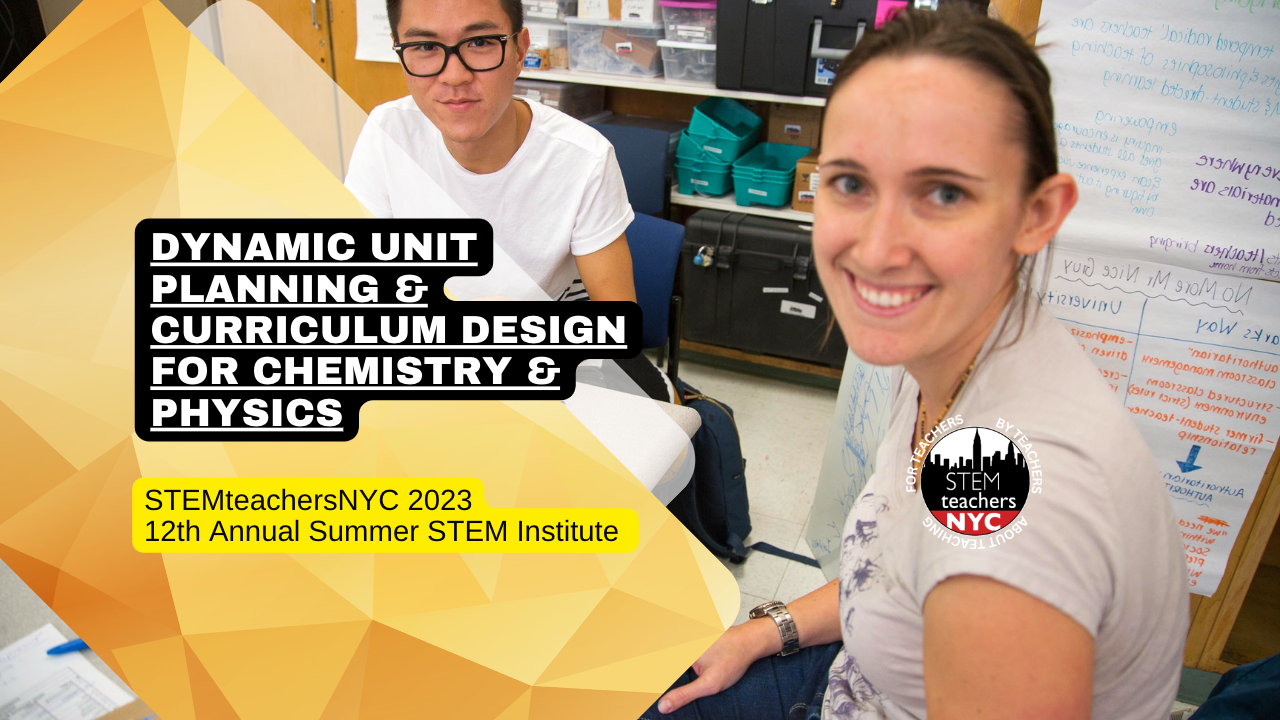 For a limited time only, we're offering a 25% discount on our summer workshops. Use code SummerSTEMFLASH25 at checkout and let the STEM adventure begin!
Creating in any Classroom! Woodworking for Teachers (Grades 3-8)
Led by: Lindsay Calhoun, Mike Schloff
Description: Join Maplewoodshop for
Dynamic Unit Planngin & Curriculum Design for Chemistry & Physics Classrooms
Led by: Pat Bauer
Need time to work on developing your chemistry/physical science curriculum? Work with seasoned and new teachers to identify your philosophy/storyline, develop beginning-of-the-year lessons, identify a hands-on activity/demonstration/lab for each unit with accompanying strategies/worksheets for developing the concepts demonstrated via the activity. Participants will be encouraged to share ideas about how to adapt materials to better meet the needs of students and/or their particular teaching situation as well as share outside resources.
STEMteachersNYC delivers professional development workshops for teachers, by teachers, about teaching, since 2011. All workshops over 2hrs offer CTLE. CUNY Pre-service teachers may attend for free; Brooklyn College Pre-service teachers receive Field Site hours. Please reach out if your school requires an invoice. We are an NYCDOE MTAC Vendor.
Cost: $110-200 (Limited # of tickets!)
Email questions to [email protected]. Note this workshop requires a minimum number of participants. In the event there are not enough participants, the workshop will be cancelled, and a refund will be issued.
Interested in purchasing a series, registering as a team, and/or want an Invoice/Purchase Order Request?
Teachers! Ask your school to pay for your ticket! All the school needs to do is send us a Purchase Order (PO). Fill out our PO/Invoice survey and we will prepare you an invoice for you to submit to your school/district. Or just copy and paste the information above and let them know the workshop you want to attend. Don't be afraid to ask. There's always a chance the money will be available and they'll say yes, but if you don't ask, there's no chance at all.
Districts/Schools, to request an invoice for a STEMteachersNYC Workshop, please fill out a quick invoice survey. This is a required step in order to process your request. Any questions regarding the PO process please contact [email protected]
Please send Purchase Orders (POs) to our Billing Office
Via Email: [email protected]
OR Via US Mail: STEMteachersNYC – Billing Office 245 West 107th Street, Suite 10B New York, NY 10025.
Please read the FAQs section below carefully before registering.
FAQs
Is STEMteachersNYC an approved NYC DOE CTLE Vendor?
Yes. STEMteachersNYC is a Continuing Teacher and Leader Education (CTLE) vendor for the New York City Department of Education (#STE-068881). New York State Teachers will receive a CTLE certificate at the end of the workshop. (CTLE ID # 23385)
How can I contact the organizer with any questions?
Questions about registration or tickets should be addressed to [email protected].
Questions about invoice/PO issues should be addressed to [email protected]
Questions about our programs should be addressed to [email protected]
Is the full workshop fee or the balance of the workshop fee refundable?
Refunds for the balance of the full workshop fee (that is, the full fee minus the reservation fee) must be requested within one (1) week of payment and at least four (4) weeks before the start of the workshop. All such requests must be accompanied by an acceptable, documented explanation. Judgments about acceptability of explanations and documentation, and about whether or not a refund will be issued are at the sole discretion of STEMteachersNYC and are final. Refunds will not include fees charged on the initial payment by Eventbrite, credit cards, and/or banks.
Is my reservation/ticket transferrable?
Not without authorization, please contact the STEMteachersNYC Registrar ([email protected]) if you need to transfer your reservation to a different person/name, or if you wish to transfer your reservation to a different workshop.
Can I update my reservation information?
Yes, you can update your reservation information.
The name on the reservation/ticket doesn't match the attendee. Is that okay?
No, please contact the STEMteachersNYC Registrar ([email protected]) to address this.
Can I receive college level credits?
No, but you will receive CTLE hours.
Where can I find more information about STEMteachersNYC?
Visit our website: http://STEMTeachersNYC.org or email [email protected]
How can I join STEMteachersNYC?
Click here – it's free! http://stemteachersnyc.org/join/
Members find out about workshops first and can sign up before others.
Please note: We take photographs and record video of our workshops in order to publicize a positive image of science teaching, and of STEMteachersNYC – a recognized 501(c)(3) non-profit organization. If you register, you are agreeing to be photographed and to have your voice and image video-recorded. You are also agreeing to relinquish all your rights to the photographs and video recordings.
If you do not wish to be photographed or video-recorded – you must inform us at check-in. We will take one photograph of your face so that we can erase your image if we happen to catch it by chance during the workshop, and we will do our best to avoid you. We would also appreciate your cooperation in positioning yourself at the edge of the group so as to help us avoid you.
Related Events