Teaching Hudson River Data – Taking Classroom Research Outside! (ES/MS)
March 25
@
9:00 am
–
12:00 pm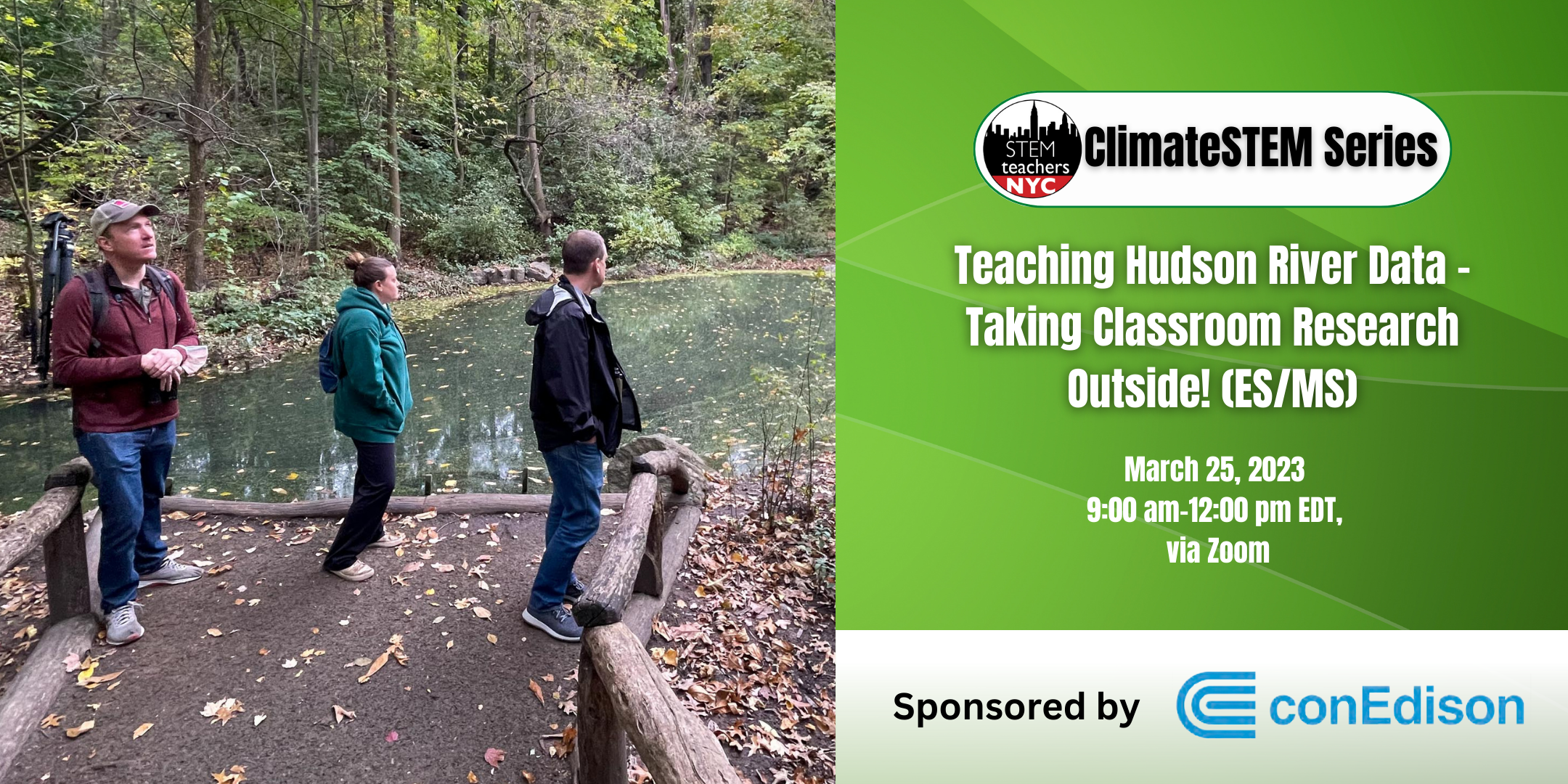 Teach about Climate Change through a Hudson River Estuary Unit, and learn to bring classroom research outside!
Leaders: Michelle Velho, Grace Sanvictores
Dates: March 25, 2023 (9:00am-12:00pm EDT, via Zoom)
Workshops in our ClimateSTEM Series are made possible with support from ConEd.
About the Workshop
Come explore modern-day practices and historical perspectives on climate change! In this interactive workshop, we will share our cross-curricular Hudson River Estuary Unit with an emphasis on Climate Change and provide a framework to create your own local or climate change unit. Participants will start by identifying resources in their local environment, such as natural resources (e.g. water, soil, and wildlife), cultural resources (e.g. historic sites and local traditions), and human resources (e.g., local businesses and communities)and chart out the topic that can be studied.
We will look at how Native Americans developed a deep understanding of the Hudson River valley and how that inform modern-day practices like crop rotation and respecting seasonal changes when caring for the land and other resources.
We will then expand our focus and examine climate change from a regional and global point of view and investigate the interconnections between local and regional resources.
Join us to gain an interdisciplinary understanding of Climate Change and our environment!
This interactive workshop will start by having participants identify resources in their local environment and narrowing down areas of focus to study.
Participants will work to expand the same idea and look at it from a regional and global point of view.
Participants will view climate change through different perspectives, such as spatially, culturally, politically, economically, or historically.
Participants will receive a list of resources to help with data visualization and modeling.
Cost: $50 Stipends for first 8 teachers; free to all others (Limited # of tickets!)
The first eight teacher-participants to sign up will receive a stipend of $50 for this workshop! Free to all other attendees. Participants receiving stipends will be asked to provide feedback in addition to our exit ticket, at the end of the workshop. Our ClimateSTEM Series is supported by ConEd.
STEMteachersNYC delivers professional development workshops for teachers, by teachers, about teaching, since 2011. All workshops over 2hrs offer CTLE. CUNY Pre-service teachers may attend for free; Brooklyn College Pre-service teachers receive Field Site hours. Please reach out if your school requires an invoice. We are an NYCDOE MTAC Vendor.
Current CUNY students with valid ID may attend workshops at a discount or for FREE! Please email [email protected] for details.
Email general questions to [email protected]. Note this workshop requires a minimum number of participants. In the event there are not enough participants, the workshop will be cancelled, and a refund will be issued.
Interested in an Invoice/Purchase Order Request?
Teachers! Ask your school to pay for your ticket! All the school needs to do is send us a Purchase Order (PO). Fill out our PO/Invoice survey and we will prepare you an invoice for you to submit to your school/district. Or just copy and paste the information above and let them know the workshop you want to attend. Don't be afraid to ask. There's always a chance the money will be available and they'll say yes, but if you don't ask, there's no chance at all.
Districts/Schools, to request an invoice for a STEMteachersNYC Workshop, please fill out a quick invoice survey. This is a required step in order to process your request. Any questions regarding the PO process please contact [email protected]
Please send Purchase Orders (POs) to our Billing Office
Via Email: [email protected]
OR Via US Mail: STEMteachersNYC – Billing Office 245 West 107th Street, Suite 10B New York, NY 10025.
Please read the FAQs section below carefully before registering.
FAQs
Is STEMteachersNYC an approved NYC DOE CTLE Vendor?
Yes. STEMteachersNYC is a Continuing Teacher and Leader Education (CTLE) vendor for the New York City Department of Education (#STE-068881). New York State Teachers will receive a CTLE certificate at the end of the workshop. (CTLE ID # 23385)
How can I contact the organizer with any questions?
Questions about registration or tickets should be addressed to [email protected].
Questions about invoice/PO issues should be addressed to [email protected]
Questions about our programs should be addressed to [email protected]
Is the full workshop fee or the balance of the workshop fee refundable?
Refunds for the balance of the full workshop fee (that is, the full fee minus the reservation fee) must be requested within one (1) week of payment and at least four (4) weeks before the start of the workshop. All such requests must be accompanied by an acceptable, documented explanation. Judgments about acceptability of explanations and documentation, and about whether or not a refund will be issued are at the sole discretion of STEMteachersNYC and are final. Refunds will not include fees charged on the initial payment by Eventbrite, credit cards, and/or banks.
Is my reservation/ticket transferrable?
If your school or organization has made the ticket purchase for you, your credit may be transferable to a school or organization colleague.
Authorization from our team will be required. Please contact the STEMteachersNYC Registrar ([email protected]) if you need to transfer your reservation to a different person/name, or if you wish to transfer your reservation to a different workshop.
Can I update my reservation information?
Yes, you can update your reservation information.
The name on the reservation/ticket doesn't match the attendee. Is that okay?
No, please contact the STEMteachersNYC Registrar ([email protected]) to address this.
Can I receive college level credits?
In-service teachers will receive CTLE hours.
Pre-service teachers whose college is participating in our "field-site hours" program will recieve field site hours or credit depending on that institution's partnership agreement. Please make sure to include your faculty advisor or course professor's name and contact when registering.
For more information about either of these, please contact [email protected].
Where can I find more information about STEMteachersNYC?
Visit our website: http://STEMTeachersNYC.org or email [email protected]
How can I join STEMteachersNYC?
Click here – it's free! http://stemteachersnyc.org/join/
Members find out about workshops first and can sign up before others.
Please note: We take screenshots, photographs and record video of our workshops in order to publicize a positive image of science teaching, and of STEMteachersNYC – a recognized 501(c)(3) non-profit organization – and to support future teacher leaders. If you register, you are agreeing to be photographed and to have your voice and image video-recorded. You are also agreeing to relinquish all your rights to the photographs and video recordings.
If you do not wish to be photographed or video-recorded – you must inform us before the workshop starts. For in-person workshops, we will take one photograph of your face so that we can erase your image if we happen to catch it by chance during the workshop, and we will do our best to avoid you. We would also appreciate your cooperation in positioning yourself at the edge of the group so as to help us avoid you.
Related Events