Dear STEMteachersNYC Community,
We have some fantastic news to share with you! Renee Cai, an 11th-grade student from Avenues The World School, is the Founder & Editor in Chief of Hi, Science, a student-created publication with a mission to promote STEM education in a fun and accessible way. We are thrilled to feature the most recent Winter 2023 issue of Hi, Science in our newsletter and to share the invitation for submissions for their next issue.
In Renee's words:
> Hi, Science was founded at Avenues the World School in Chelsea two years ago with the mission of promoting STEM education and literacy in a fun, engaging, and accessible way. Our global team now consists of more than 60 students and teachers from across the world, including students in São Paulo, Mexico, India, Silicon Valley, and many other places. Hi, Science has even been integrated into the science curriculum at Avenues. We're very excited to offer more students in NYC the opportunity to contribute to the publication or even start a branch of the magazine at their own schools! We would also be excited to work with teachers on curriculum development.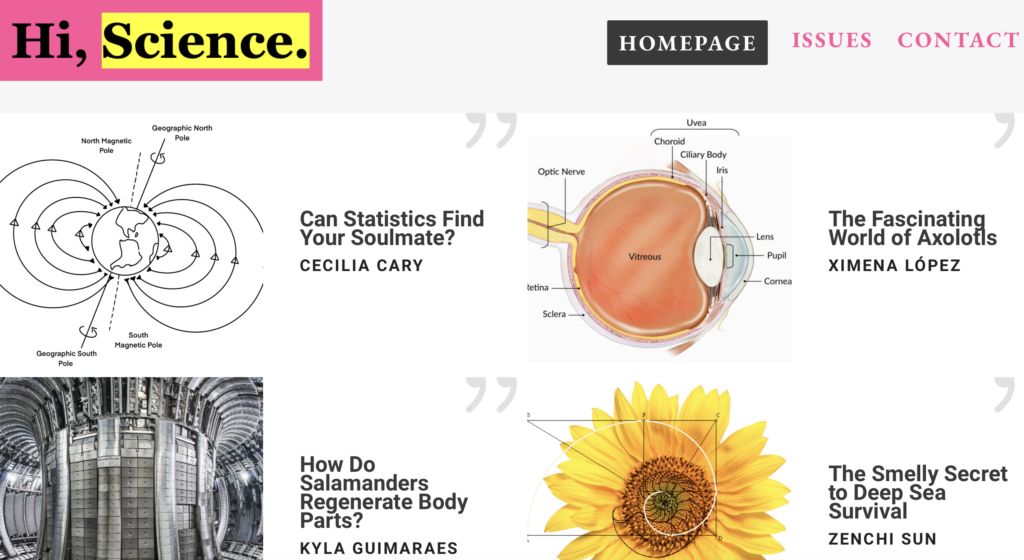 With the deadline for the next issue extended to May 14th, we encourage STEM teachers and students to send in article submissions and/or inquiries to [email protected]. Don't miss out on this amazing opportunity to be part of the Hi, Science community and inspire more students and curious thinkers in our city!
A link to the current live issue of Hi, Science can be found below, and all articles are archived on the school website here!