Survival Essentials for the Classroom – Ideal for New Teachers (ALL GRADES)
July 26
@
9:00 am
–
July 27
@
3:00 pm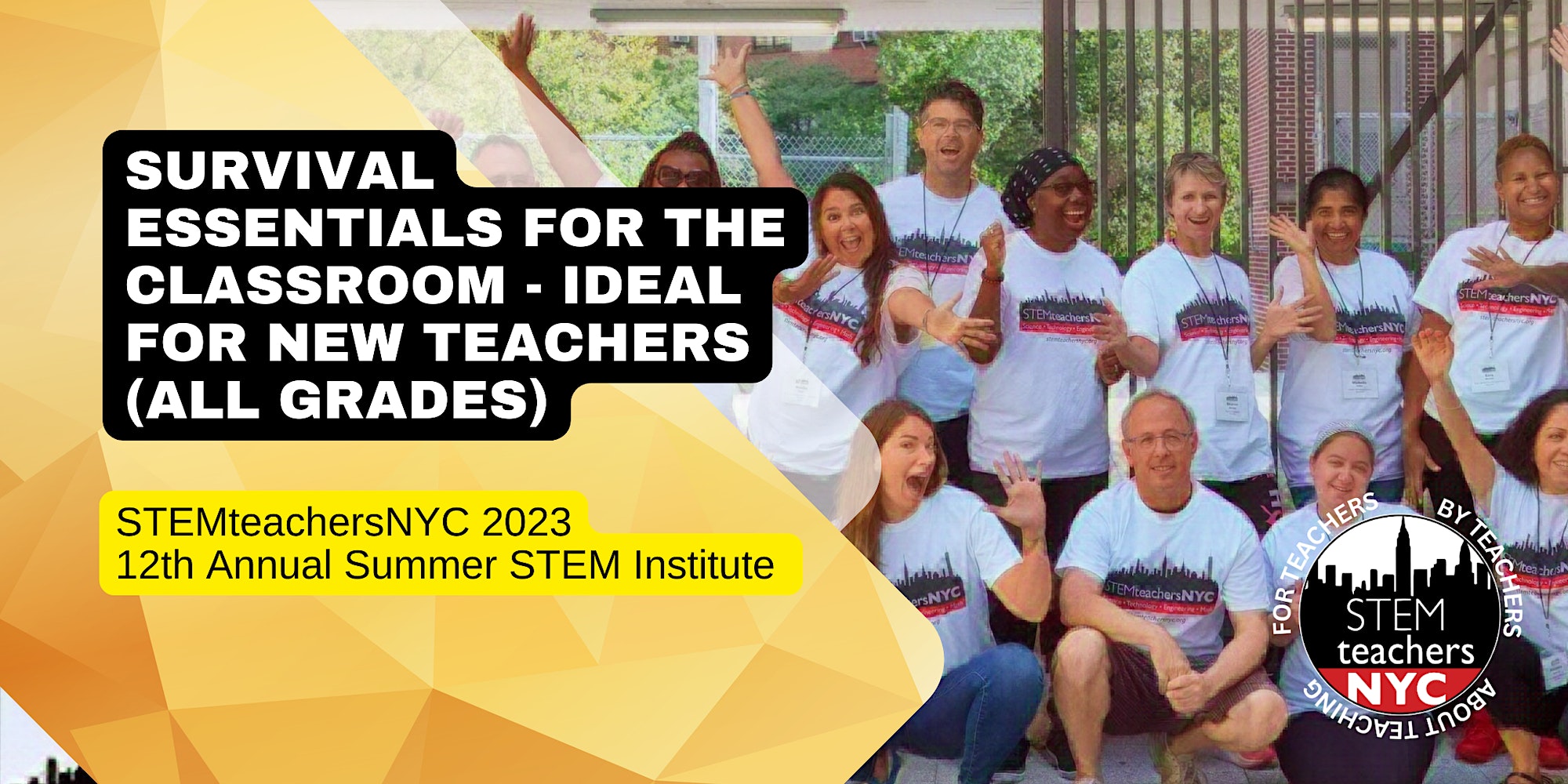 For a limited time only, we're offering a 25% discount on our summer workshops. Use code SummerSTEMFLASH25 at checkout and let the STEM adventure begin!
Gain the skills beyond the pedagogy and content that will help you succeed in your first years as a teacher. Join one or all four workshops!
Leaders: Jenna Peet, Kimesha Reid Grant and Elissa Levy
Dates: August 2023 (9:00-3:00pm EDT, via Zoom)
About the Workshop
The Survival Essentials workshop for new and pre-service teachers offers you insight, resources, and support to help you establish solid routines, systems, and strategies for communication and assessment for your classroom. Gain the skills that help your 'behind the scenes' work run smoothly so you can get back to teaching!
Part 1: Parent Communication
Learn strategies for seamless and stress-free communication with parents. You will leave with ideas for organizing class-wide parent updates, improving conversations with individual parents, and holding efficient and productive conferences, as well as setting boundaries that respect your time and class policies.
Part 2: Self-running Classrooms
Make your job easier by setting up your teaching space and designing procedures (for yourself and students) that are intuitive and make routines easy. Join us to share and learn strategies for making your class predictable and manageable for your students, from organizing materials, to writing classroom rules and behavioral policies, to assigning roles to delegate responsibilities.
Part 3: Sustainable Systems
Your time and energy are limited, so it's worth investing some time now into creating systems that will keep your schedule on track and your head clear. In this session, we'll discuss ways of managing your papers, establishing your weekly work/life balance, onboarding new parents, and focusing students through transitions, so that you achieve a sustainable work routine.
Part 4: Homework
Homework is a vital part of the learning process for many students, but it can be a challenge to stay on top of – not to mention getting students (and parents) to see the purpose of the work you assign. Let's talk about ways of simplifying your systems for planning, collecting, and assessing homework, as well as how to incentivize students by making homework more meaningful to them and how to get parents to support their child's learning at home.
Cost: $110-200 (Limited # of tickets!); FREE for preservice teachers. Participants receive CTLE for this workshop.
STEMteachersNYC delivers professional development workshops for teachers, by teachers, about teaching, since 2011. All workshops over 2hrs offer CTLE. CUNY Pre-service teachers may attend for free; Brooklyn College Pre-service teachers receive Field Site hours. Please reach out if your school requires an invoice. We are an NYCDOE MTAC Vendor.
Current CUNY students with valid ID may attend workshops at a discount or for FREE! Please email [email protected] for details.
Email general questions to [email protected]. Note this workshop requires a minimum number of participants. In the event there are not enough participants, the workshop will be cancelled, and a refund will be issued.
Interested in an Invoice/Purchase Order Request?
Teachers! Ask your school to pay for your ticket! All the school needs to do is send us a Purchase Order (PO). Fill out our PO/Invoice survey and we will prepare you an invoice for you to submit to your school/district. Or just copy and paste the information above and let them know the workshop you want to attend. Don't be afraid to ask. There's always a chance the money will be available and they'll say yes, but if you don't ask, there's no chance at all.
Districts/Schools, to request an invoice for a STEMteachersNYC Workshop, please fill out a quick invoice survey. This is a required step in order to process your request. Any questions regarding the PO process please contact [email protected]
Please send Purchase Orders (POs) to our Billing Office
Via Email: [email protected]
OR Via US Mail: STEMteachersNYC – Billing Office 245 West 107th Street, Suite 10B New York, NY 10025.
Please read the FAQs section below carefully before registering.
FAQs
Is STEMteachersNYC an approved NYC DOE CTLE Vendor?
Yes. STEMteachersNYC is a Continuing Teacher and Leader Education (CTLE) vendor for the New York City Department of Education (#STE-068881). New York State Teachers will receive a CTLE certificate at the end of the workshop. (CTLE ID # 23385)
How can I contact the organizer with any questions?
Questions about registration or tickets should be addressed to [email protected].
Questions about invoice/PO issues should be addressed to [email protected]
Questions about our programs should be addressed to [email protected]
Is the full workshop fee or the balance of the workshop fee refundable?
Refunds for the balance of the full workshop fee (that is, the full fee minus the reservation fee) must be requested within one (1) week of payment and at least four (4) weeks before the start of the workshop. All such requests must be accompanied by an acceptable, documented explanation. Judgments about acceptability of explanations and documentation, and about whether or not a refund will be issued are at the sole discretion of STEMteachersNYC and are final. Refunds will not include fees charged on the initial payment by Eventbrite, credit cards, and/or banks.
Is my reservation/ticket transferrable?
If your school or organization has made the ticket purchase for you, your credit may be transferable to a school or organization colleague.
Authorization from our team will be required. Please contact the STEMteachersNYC Registrar ([email protected]) if you need to transfer your reservation to a different person/name, or if you wish to transfer your reservation to a different workshop.
Can I update my reservation information?
Yes, you can update your reservation information.
The name on the reservation/ticket doesn't match the attendee. Is that okay?
No, please contact the STEMteachersNYC Registrar ([email protected]) to address this.
Can I receive college level credits?
In-service teachers will receive CTLE hours.
Pre-service teachers whose college is participating in our "field-site hours" program will recieve field site hours or credit depending on that institution's partnership agreement. Please make sure to include your faculty advisor or course professor's name and contact when registering.
For more information about either of these, please contact [email protected].
Where can I find more information about STEMteachersNYC?
Visit our website: http://STEMTeachersNYC.org or email [email protected]
How can I join STEMteachersNYC?
Click here – it's free! http://stemteachersnyc.org/join/
Members find out about workshops first and can sign up before others.
Please note: We take screenshots, photographs and record video of our workshops in order to publicize a positive image of science teaching, and of STEMteachersNYC – a recognized 501(c)(3) non-profit organization – and to support future teacher leaders. If you register, you are agreeing to be photographed and to have your voice and image video-recorded. You are also agreeing to relinquish all your rights to the photographs and video recordings.
If you do not wish to be photographed or video-recorded – you must inform us before the workshop starts. For in-person workshops, we will take one photograph of your face so that we can erase your image if we happen to catch it by chance during the workshop, and we will do our best to avoid you. We would also appreciate your cooperation in positioning yourself at the edge of the group so as to help us avoid you.
Related Events